FREE Webinar: Making the Business Case for Emotional Intelligence
CPHR BC FREE Webinar: Making the Business Case for Emotional Intelligence
October 17 @ 1:30 pm

– 2

:30 pm

Speaker:
David Cory, Leadership Development Consultant
Description:
"We don't need emotional intelligence training. Our employees just need good technical skills", says the senior executive team as they struggle to address low employee engagement scores and the difficulty in retaining good people. How do you make the 'business case' for emotional intelligence training and what are the reasons top companies are investing in it?Join David Cory with the Emotional Intelligence Training Co. as he shares why organizations are offering EI assessment, coaching, and training to their employees.
In this webinar, participants will be able to:
Define emotional intelligence
Describe the world's leading model for EI
Make the 'business case' for emotional intelligence assessment, training and coaching in organizations
Who should attend:
This presentation will benefit HR professionals at all levels, but will mainly benefit more senior HR professionals who want to bring in EI training and development, but have not yet been successful in making the business case to senior management.
Format: Live Online – Zoom Webinar
Meet the Speaker: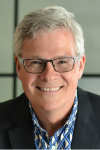 Mr. David Cory, PCC, BEd, MA, is a coach and leadership development specialist who founded one of the first companies to offer leadership development based on emotional intelligence.
In addition to having worked with leaders in progressive organizations all over the world David is frequently invited to be a Keynote speaker at conferences world-wide. He has been a Keynote speaker at world emotional intelligence conferences, such as the Nexus EQ Conference at the Harvard Medical School and was a Keynote speaker at the Asia HRD Congress in Kuala Lumpur, Malaysia, Bahrain, Brunei, Singapore, and once virtually for a total of 6 times.
This webinar is complimentary to all CPHR PEI members. Register early to avoid disappointment!
Use discount code "PEI-MEM23" to receive the member rate.