FREE Webinar: From Insight to Impact: Shaping Leadership Development Through Behavioral Data
CPHR BC - FREE Webinar: From Insight to Impact: Shaping Leadership Development Through Behavioral Data
October 11 @ 1:30 pm

– 2:

30 pm

Speaker:
Jean-Simon Leclerc – PhD, Vice-President, Client Solutions & Success
Description:
Discover the transformative power of behavioural data in leadership development and succession planning with our webinar, "From Insight to Impact: Shaping Leadership Development Through Behavioral Data".Delve into the remarkable journey of a leading Canadian business as we explore their innovative strategy of utilizing behavioral data to drive succession planning. Find out how this approach transforms traditional leadership pathways, ensuring a seamless transition of leadership roles, and gain insights into the methodologies, challenges, and outcomes that have propelled this company to the forefront of leadership development.

This is your chance to learn from their success and revolutionize your own leadership strategies with data-driven precision. Join us and discover the art of shaping exceptional leaders through the lens of behavioral data.

In this webinar, participants will be able to:
Insights into the methodologies employed to harness behavioral data for effective talent pipeline creation and development.
How behavioral data-driven succession planning can lead to smoother leadership transitions and more robust organizational continuity.
Actionable ideas for integrating behavioral insights into your own leadership development and succession planning initiatives.
How to navigate some of the challenges you might be facing while implementing your data-driven leadership development approach.
Who should attend:
This session is tailored for HR professionals who specialize in talent development and are motivated to have a real strategic impact on their organization. Whether you have a basic understanding or intermediate expertise of psychometric assessments, if you are a raving fan of people data and are ultimately looking for new ways to understand your workforce, this session is for you!
Format: Live Online – Zoom Webinar
Meet the Speaker: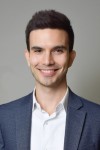 Holding a PhD in Industrial/Organizational Psychology, Jean-Simon Leclerc is passionate about HR transformation, particularly technology, analytics, and strategic talent management. Starting his career in-house in the corporate world, he joined SuccessFinder in 2017 as a Senior Consultant where he worked with a variety of clients to leverage their talent assessment. Now Vice-President, Client Solutions and Success, Jean-Simon is on a mission to build and scale the best client success team of the HR tech industry and deliver evidence-based talent solutions that contribute to clients' business objectives.
This webinar is complimentary to all CPHR PEI members. Register early to avoid disappointment!
Use Discount code "PEI-MEM23" to get the member rate.