CPHR BC – FREE Webinar: Job Crafting – A Key To Engagement and Retention!
CPHR BC - FREE Webinar: Job Crafting - A Key To Engagement and Retention!
September 14 @ 1:30 pm

 – 2

:30 pm

Speaker:
Dr. Pauric P. O'Rourke – Professor of HRM, University Canada West
Description:
Engaging and retaining talented employees remains an ongoing challenge for all organizations. While there is no panacea, job crafting and giving employees a more active role in redesigning and reimagining their role may be part of the solution.

The webinar explores this possibility by navigating the theory, practice, and application of job crafting.

In this webinar, participants will be able to:
Understand the link between job crafting and engagement and retention.
Identify the core principles of job crafting and how they apply in the modern workplace.
Implement job crafting techniques in their practice as HR professionals.
Who should attend:
HR practitioners at all levels and in all sectors working primarily in the field of talent management and job design who are committed to making their organization a better place to work.
Format: Live Online – Zoom Webinar
Meet the Speaker: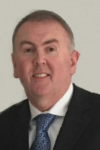 Dr. Pauric O'Rourke is a passionate life-long learner and people developer with many years of practice as a professional practitioner, consultancy experience, and workforce learning.
He holds a doctorate in HRM and currently an Associate Professor in HRM at University Canada West for their MBA program. He has also taught for over fifteen years at various further and higher education institutions in Canada, UK, and Ireland combined with his varied work as an independent HR consultant.
This webinar is complimentary to all PEI members. Register early to avoid disappointment!
Use Discount code "PEI-MEM23" to get the member rate.